If you are staying in Denmark for a longer period as an expat, you'll most likely want a Danish subscription for your mobile phone.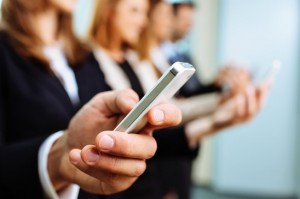 Before getting a Danish subscription, you'll need a Danish CPR number and a Danish address. The CPR number i basically a personal ID number.
Prepaid deals are available without a Danish address or CPR number. You'll be able to buy prepaid deals at many shops and supermarkets. Be aware that it's generally very expensive to use data with your prepaid deals, but some deals are way more suitable than others.
Subscriptions in Denmark
There are many different subscriptions available in Denmark. Many of the subscriptions have similarities. You'll typically pay a monthly fixed fee and get a deal with the basics included. You'll normally have unlimited SMS and MMS, and some hours of talk every month. You'll also have some data available – usually between 1 and 10 GB. Data is usually included in the subscriptions – even if you don't need it.
The subscriptions only include activities in Denmark, and you can only call and text Danish numbers with the services included. You'll be able to use your phone for foreign calls and in foreign countries, but you'll pay for the use in addition to the monthly fee. If you talk for a longer period than included in your deal, you'll usually pay per use for the extra minutes of talk. If you use all your data, you could risk paying per use (which can be quite expensive), but normally the speed will slow down or in some cases be blocked rest of the month, unless you actively accept to pay for more data.
Subscription – prices
Provider
Talk
Data (Network)
SMS/MMS
Contract
Price

59 øre/min.


0,49 kr./MB
(Telia/Telenor)

8 øre/1 kr.

None

59 øre/min.


1 kr./MB
(Telia/Telenor incl. 4G)

14 øre/99 kr.

None

Free talk


50 GB
(Telia/Telenor incl. 4G)

Free/Free

6 mo

Free talk


1000 GB
(TDC incl. 4G)

Free/Free

None
Priser og information i tabellen er opdateret 3. maj 2021
Prepaid deals in Denmark
As an expat staying in Denmark for a longer period, we strongly recommend that you go for a subscription. However, in some cases the process to get a CPR number is not worthwhile.
In general, the data plans for prepaid deals are bad. Lebara normally have good deals for data. At the other providers, you'll pay per use, and they are normally charging 1-10 kroner for each MB you spend. Often you'll have a daily limit on how many kroner you can spend on data, and after that the data usage is free, but with a limit on how much data you can use each day. Generally speaking, the daily spending limit is 10-30 kroner and about 30 MB. If you plan to use data with a prepaid deal on a regular basis, the Telia deal is currently by far the best we know of.
If you only plan to use the prepaid deals for calling and texting, the prices are quite similar at the providers. You'll usually be charged about 0,50-3 kroner for each minut talked and 0,20 – 1 kroner for each SMS sent – the highest prices are the prepaid deals bought at shops, while the lower prices are the prepaid deals where you buy extra credit online.
Lebara – prepaid deals with foreign calls included
Many foreigners chooses Lebara. They offer prepaid packages with data and hours included. You don't need a Danish CPR-number.
The hours for talkning can be used to call 42 different countries from Denmark, and this makes it a good option, if you want to use your mobile phone to call your home country, and it is included in the deal.
The packages has 10-14 hours included, and 2-4 GB for data ussage. The hours and data included only works while you're in Denmark Denmark – you can't use the deal in other countries without a Danish CPR-number, and it will cost extra to use it in another country. But the deal is quite good if you're staying most of the time in Denmark, and you want to keep in touch with some people in your home country with short calls every now and then.
Lebara also has the advantage of having an english home page. See the English page with their prepaid deals (if the language is Danish you can change it in the upper left corner).
It's possible to buy Lebaras prepaid deals at many shops and supermarkets in Denmark.
Coverage in Denmark
We have four networks for 2G, 3G and 4G in Denmark:
TDC
3 (in other countries sometimes known as Hutchison 3 or Hi3G)
Telia
Telenor
Telia and Telenor will have a combined network in the future, and they already have completely identical 3G and 4G networks.
Denmark has better coverage than most other countries in the world, but there are places with bad data connection and also places with bad connection for calls. There are no larger areas with bad connection though.
Find the nearest mobile service provider shop:
Telenor (the light blue icons are Telenor's own shops, grey icons are Føtex and dark blue is Bilka – Føtex and Bilka are Danish supermarket chains with an electronic department)
Telia (lilac icons are Telia's own shops, while the blue icons are other shops selling Telia subscriptions)
Lebara – scroll a bit down to see the shops that sell Lebara – you can also order it online but you will need a Danish address. If you need help with finding the right Sim-card size, choosing the right product or anything else, you can go to one of the big supermarkets with electronic departments. All Bilka stores have a big electronic department with specialized employees, and many Føtex and Kvickly shops also have electronic departments with good service, but you may come across smaller ones that does not sell electronics. Another option is Computer City, Elgiganten and Experten, which only sell electronic equipment, and will be able to help you. Blue city and Fotokæden are also electronic shops, but Blue city focus on films and Fotokæden on photography, so their staff isn't as knowledgeable out phones.
Broadband in Denmark
If you're looking for broadband in Denmark, we've also written a guide for broadband in Denmark as an expat on Bredbaandsmatch.dk