When you're looking for subscriptions in Denmark for your mobile phone, you should be aware of several things.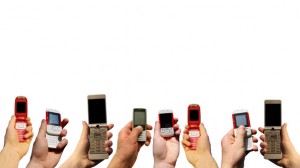 First of all: In order to get a subscription, you'll need a Danish CPR number – which is basically a social security number. You'll need a permit to stay to get a CPR number. As a tourist, you will not get a CPR number, and you'll have to go for the prepaid deals instead. You'll also need a Danish address in order to get a subscription.
How are the deals in Denmark?
You can buy the prepaid deals at many shops. The biggest providers have their own shops in the big cities, but many supermarkets and small shops sell the prepaid deals from several service providers. Data usage is often quite expensive with the prepaid deals, but will most likely be way cheaper than what you will need to pay using a subscription from a foreign country.
Unlimited SMS and MMS are usually included in the subscriptions in Denmark. You'll typically have some hours of talk included in the subscriptions, but unlimited subscriptions are becoming normal too. When it comes to data, you'll often have some monthly GB included in your subscription – even if your phone can't use data. There aren't any real unlimited GB deals on the market, but options with 10 GB or more in a subscription are quite normal.
Coverage in Denmark
In Denmark we have four network providers:
TDC
3 (in many countries known as Hi3G or Hutchison 3)
Telia
Telenor
Telia and Telenor share 3G and 4G networks, and they are also going to share the 2G-network in the future.
The rest of the providers use one of the networks listed above, and they are often owned by one of the network providers. The network providers are not listed in a prioritized order, and they all have great access. Some providers don't have access to the 4G network though.
Denmark has great quality network for both data usage and phone calls compared to most of the world. The Danish network is based on GSM/GPRS/EDGE(2G), UMTS(3G), HDSPA (Turbo 3G) and LTE(4G) standards. There's also a CDMA network, but it's only used for mobile broadband by Net1.
The frequencies are the same used in most of Europe, but even if your country uses different frequencies, you will usually still be able to use your phone in Denmark – however, you might want to check if your phone works with the Danish frequencies:
GSM/GPRS/EDGE: 900/1800 MHz
UMTS/HSPA+: 900/2100 MHz
LTE: 800/1800/2600 MHz
Read your phone manual or do a Google search to check if your phone works with the Danish frequencies. There are different versions of the same phones for different countries.
In depth articles
We have written in depth articles for specific situations to help you find the best phone service options
Prices in Denmark
Provider
Talk
Data (Network)
SMS/MMS
Contract
Price

59 øre/min.


0,49 kr./MB
(Telia/Telenor)

8 øre/1 kr.

None

59 øre/min.


1 kr./MB
(Telia/Telenor incl. 4G)

14 øre/99 kr.

None

Free talk


50 GB
(Telia/Telenor incl. 4G)

Free/Free

6 mo

Free talk


1000 GB
(TDC incl. 4G)

Free/Free

None
Priser og information i tabellen er opdateret 3. maj 2021